Trading Options? You'll Want To Read This First
Find Something That Works... Then Trade It: Take The Profits & Run
A new e-book is available now on Amazon. This short, easy read highlights a stock options trading service published by experienced trader Allan Harris, chief strategist and head writer for Blue Line Trading System. "Find Something That Works... Then Trade It: The Take The Profits and Run Stock Option Trading System" is available now.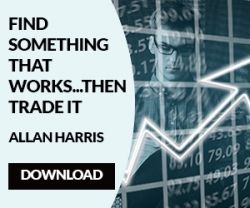 Scottsdale, AZ, July 07, 2018 -- "Find Something That Works, Then Trade It: The Take The Profits and Run Stock Option Trading System"
Now available on Amazon and bluelinetradingsystem.com
AllanTrends LLC, DBA Blue Line Trading
, today announces its release of a new book, authored by head writer and chief strategist Allan Harris. Allan left the practice of law more than 20 years ago to pursue his passion for trading stocks. After 4 decades of experiencing great success and multiple market crashes, Allan created a system using technical analysis, proprietary algorithms and trend-following strategies to make money in the stock market.
In 2010, a trading system was launched and made available to the public. Over the years, the system has gone through several iterations to become as simple and profitable as possible. Allan is not new to the media spotlight and was the publisher of the popular AllAllan blog for several years prior to launching AllanTrends LLC. This brought him notoriety not only as a popular stock picker and market timer, but also as a prolific observer of the human condition. His market analysis with an added philosophical perspective made him an internet sensation.
Mr. Harris publishes his newsletter from his office in Scottsdale, Arizona with the continued mission of helping individuals learn to become successful traders.